[two_three_first]
GREEN EARTH is committed to providing a safe work environment for our employees and our customers. Our commitment to safety has resulted in an accident frequency rate less than 1/4 the national average.GREEN EARTH's top priority is helping clients achieve cost-effective regulatory closure for contaminated sites. To achieve this goal, we provide integrated hazardous waste remediation and regulatory closure services.
Combining assessment and remediation services into a comprehensive site closure strategy helps our clients achieve significant cost savings and risk reduction. By using experienced and responsive professional staff and innovative technical and regulatory approaches,GREEN EARTH provides practical resolutions for complex and difficult sites. By offering new business solutions, guaranteed fixed price contracts, and performance-based contracts, we help our clients improve their bottom line.
Our integrated site closure services include regulatory negotiation, preliminary assessment, site investigation, risk assessment, feasibility evaluation, hazardous materials management, remediation, operation and maintenance–all necessary to achieve a "no further action" determination from the regulatory agency.
[/two_three_first] [one_three_last]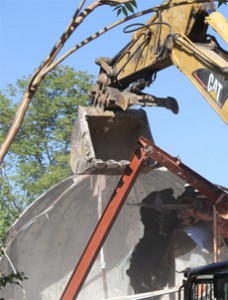 [/one_three_last]